1. Professional meaning

Tourism management is the study of basic theory of operation and management of tourism and the general method of discipline, research scope includes tourism development and tourism marketing, tourism scenic spot planning, enterprise management, exhibition services and management of tourism, tourist economy, tourist culture and other fields, focusing on cultivating tourism planning and project management and enterprise management and marketing.

As the world's largest outbound tourist country and the fourth largest inbound tourist destination in the world, tourism has become a strategic pillar industry and social investment hotspot in our country. Tourism management major in close connection with the development of China's tourism industry transformation, the trend of the industrial structure optimization, has the characteristics of strong practicality, high internationalization alignment, form production, applied and international cooperation in running schools two big characteristics. After systematic learning and training, students can master the tourism management basic theory and method, correctly applied to tourism planning and project management, business management and marketing practice, lay solid foundation for career development.

2. Professional development.

Tourism management, established in 1992 approved by the former state education commission in 1993 formally enroll undergraduates, in shandong province is the earliest established tourism management undergraduate programs, have recommended to foreign colleges and universities undergraduate students. In 1996, the tourism management department was established. In 2011, it was merged into the business school. In 2013, the tourism planning and consulting research center of shandong normal university was established. In 2014, shandong normal university and Qingdao tourism school jointly recruited "3+4" to train tourism service and management undergraduates. At the same time, it is also the pilot unit of shandong province self-taught examination undergraduate course, and is located in shandong province tourism talent training base by shandong tourism development committee. Since 1986, there has been a master's degree in the field of regional tourism recruitment in the master's degree of humanities geography. In 2000, a master's degree in tourism management was established. In 2010, I obtained the right to grant the master's degree in tourism management. Was approved in 2015 to set up vocational and technical education professional travel service (direction) professional master degree, become the country's first have tourism management master's degree awarded and tourism services (master of education) to award one of the units; In 2016, the joint culture medium for the tourism management of marriott international group co., LTD., which was cooperated with the Beijing branch of Shanghai jianggan hotel management co., ltd. was awarded as the joint training base of education.

The tourism management department of shandong normal university has 14 full-time faculty members, including 3 professors, 4 associate professors, 7 lecturers and 15 visiting professors. So far, this major has 18 university graduate, has reached more than 2000, the total number of graduates of international tourism development design company, international tourism hotels, scenic spots, travel agencies, tourism administrative organs, institutions of higher learning and other units, more than 90% of tourism management major of colleges and universities in shandong province has a professional tourism management graduates to teach in our school. After more than 20 years of development, tourism management has grown into a first-class and nationally renowned brand major.

For a long time, the professional practice and promote the scientific research and will be closely integrated with industry, and the school classroom, more than 40 enterprises and industry, dozens of universities at home and abroad and tourism management departments to carry out the industry-university-institute cooperation in many areas. Combined with simulation online training course teaching, students' practice base set up normalized, committed to the foremen, supervisors, managers and other positions of the trainee and practice, professional managers seminar, experts, BBS, causes the student to apply theoretical knowledge to practice, to cultivate the students' scientific research ability, improve the professional quality of students, professional education levels have improved significantly.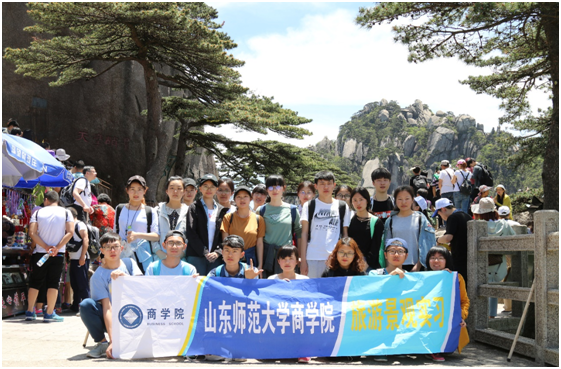 Figure 20. Tourism management major 2016 students to mount huangshan to carry out tourism landscape internship
Figure 21 teachers and students discuss the plan of tourism planning
Figure 22 teacher and student study tour route design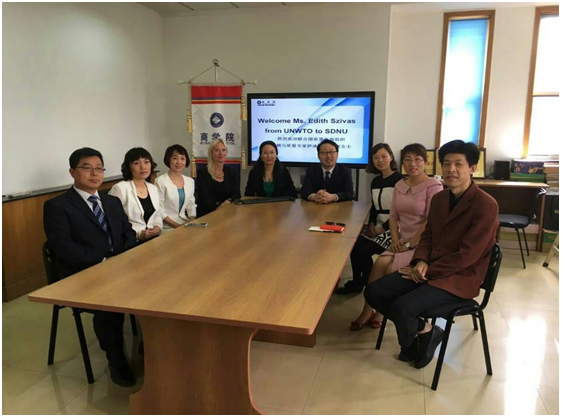 Figure 23. Dr. Edith Szivas, tourism planning expert of the world tourism organization, and the faculty of tourism management
3. Characteristic advantages

This major is featured prominently in the integration of industry-university-research and international cooperation. Adhere to the professional development is closely linked with industry development and faculty construction and students work closely with the government tourism management departments, enterprises and institutions, adhere to the theory teaching and practice together, mutual promotion of characteristic school-running mode. All students in Beijing, Shanghai, guangzhou, shenzhen and other international tourism groups in the five-star hotel internship; Work closely with marriott hotel group to implement management trainee program; Students can study at San Diego state university and work as an intern at the marriott hotel in the United States. At the same time, in the travel agencies, tourist attractions to adopt the shunt and comprehensive internship model, to improve students' ability to apply theory to practice. Since 1999, to work with us at brigham young university, teaching experienced foreign teachers every year to undertake the foreign teachers spoken English teaching task, so far in this professional lecture for 16 m American teachers, students' foreign language spoken English improved significantly. And Canada's university of guelph, adopts the model of "2 + 2" cooperation, cooperation with Spain USES the "3 + 1" mode to cultivate students, students in the completion of double bachelor's degree at home and abroad at the same time, can apply for to famous universities abroad study for a master's degree.

4. Training objectives

This professional training to adapt to the development of modern tourism industry, has the system of modern management theory and the solid knowledge of tourism management, with international vision, the spirit of innovation, entrepreneurship application inter-disciplinary talent, in tourism related administrative organs, enterprises and institutions engaged in the planning and consulting, management, scientific research, etc.

Tourism planning and project management mainly cultivate for tourism planning, planning and consulting institutions and the relevant administrative agencies and various scenic spots, theme park, tourist resort, etc., the system master basic theory in the field of tourism planning and project management and cutting-edge knowledge, serving local economic and social development of high-quality practical talents with innovative consciousness and ability in developing.

Tourism enterprise management and marketing major training for scenic spots, hotels, travel agencies and other tourism related businesses, the system master the tourism enterprise management and marketing in the field of professional knowledge and basic skills, to adapt to the modern enterprise development needs with pioneering consciousness and practice ability of senior applied management talent.

5. Distinguished scholars and professors.

Li ping, professor, doctor. Shandong normal university, master tutor, master of tourism management, vice President of the school enrollments, discipline leaders, shandong normal university, director of tourism planning and consulting, director of the center for full-time researchers, qilu culture research center. Expert database expert of national natural science foundation and national social science fund; Shandong provincial department of science and technology, department of culture, forestry department, tourism project evaluation expert.

Main research areas: tourism resources development and regional tourism development planning, a national natural science foundation of China carried out in recent years, national major research topic research 3 items, more than 10 development and planning of local projects, more than in the core academic journals published more than 50. The main course is "natural landscape science", "tourism resources planning and development" and "principles of regional tourism planning".

Sun fengzhi, professor. Director of tourism management department of shandong normal university, master tutor and director of education master program of tourism service. Director of shandong institute of comparative management; Education branch of director of the association of China's tourism industry, tourism expert advisory committee of shandong province, shandong province traveling hotel association culture consultant, in shandong province travel agency association, director of shandong tourism industry association guide branch, evaluation of star-rated hotels in shandong province, shandong province tourism scenic evaluation committee members.

Main research areas: tourism economy, tourism resources development and planning. In recent years, more than 30 papers have been published in core journals at home and abroad, many of which have been retrieved by CSSCI and EI. Published more than 20 books, books and textbooks in the Yellow River valley table memory; Host complete social sciences planning project in shandong province, the province special fund project, etc. More than 10 provincial teaching reform projects, for the tourism bureau of shandong province and finish around the city more than 20 tourism planning, tourism in shandong province for drafting the three industry standards and local standards. Won the third prize of shandong humanities and social sciences, the third prize of shandong province's industry-university-research innovation. I have won the title of excellent teaching award and advanced individual of the university. It mainly teaches courses such as "service management" and "tourism enterprise operation and management".

Zhang wei, professor, doctor. Shandong normal university tourism management professional academic and professional master tutor, tourism scenic evaluation committee of shandong province, shandong province tourism, environmental protection and ecological project evaluation experts, the 9th youth awards winner in shandong province. It mainly teaches undergraduate and postgraduate courses in tourism environment, tourism geographic information system, management research methods, tourism planning and strategy.

Research areas: geography, ecology, management science and other multi-disciplinary fusion, research of regional tourism resources planning and development in recent years, ecological environment assessment of tourism, tourist information, etc. Published more than 20 high-level papers, many of which are SCI, EI, CSSCI, etc. Publishing "shandong ecological environment and sustainable development", "new tourism environment science" and other works; Presided over the national social science fund project (r) and the complete soft science major project in shandong province, provincial teaching reform project, and dozens of tourism planning and all kinds of ecological planning and evaluation, etc., as members of the second national natural science fund projects, etc. Won the provincial excellent teaching achievement third prize, the school's first ten teaching masters, school-level teaching masters, the school outstanding communist party member and so on.

6. Overseas communication.

Tourism management department of teachers follow the internationalization of education philosophy, strengthen exchanges and cooperation with foreign colleges and universities, ms teacher at the university of Utah in the United States park department of tourism, leisure and visiting half a year, Pan Huali Oklahoma state university in the United States visiting 1 year, li ping, feng-zhi sun, zhang wei teacher respectively Compton Shi Daxue again to South Korea, Spain, France oviedo university such as the United States, such as university of claremont short-term exchange visits. Xie xiaojuan, li dongcheng, han miao and other teachers participated in Asian food science BBS. Kenyatta university at the same time, Africa Kenya, Compton university in Spain, and in countries such as Russia, kyrgyzstan, teachers conduct exchanges and cooperation with scientific research and teaching to the teachers' scientific research level has improved.

Over the past three years, more than 20 undergraduate students, including wang qian, have been studying in Canada, the United States, France and Spain. Nearly 10 students of yuan elite applied for a master's degree in Spain, Australia, Canada and other countries.

7. Famous alumni

CAI xiaofeng: 1993, wanda group co., LTD. (Qingdao), deputy general manager.

Wang changyu: 1993, Qingdao hotel management college, hotel engineering college, dean.

Ren zhanying: 1993, Intel China LTD., shenzhen branch, deputy general manager.

Jia yue qian: 1994, zhejiang tourism group co., LTD., deputy general manager.

Liu wei hua: 1994, the people's government of baoting county, hainan province, county chief.

Xu lipeng: 1994, yemen xu lipeng export and investment company, chairman.

To meet the wave: 1995, shandong jiaotong university personnel office, director.

Li peng: 1995, shandong zhoucun ancient town tourism development co., LTD., deputy general manager.

Bian liyuan: 1995, shenzhen airlines limited liability company, deputy general manager.

Ma baoli: 1995, school office of shandong tourism vocational college, director.

Liu hongpeng: 1997, zaozhuang tourism and service development committee, deputy director.

Song huanliang: 1997, shandong airlines co., LTD., deputy general manager.

Du changhui: 1998, China Hong Kong travel group co., LTD. Manager.

Ren yilin: 1998, state council sasac policy and regulations bureau, deputy director.